The monthly newsletter for parents of preschoolers
Parent Pause is designed to encourage and disciple parents of young children. Download this free newsletter every month to distribute to parents in your ministry!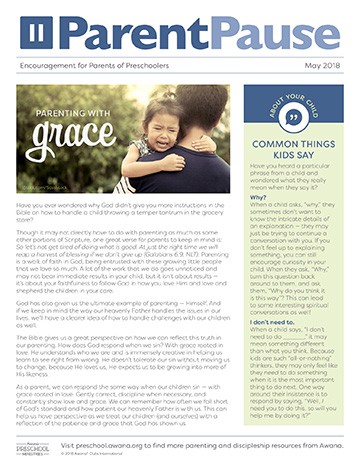 Download the latest issue!
For specifics of how to use the Microsoft Word template see the note below!
The preschool years bring their own unique joys and challenges to parents. Bless the families in your ministry with helpful resource!
EACH MONTHLY ISSUE FEATURES:
Encouraging articles for parents to support them through their child's preschool years
Helpful information regarding discipleship of young children
An activity for parents and children to engage in discipleship together
A page for you to add your own club news and announcements.
Let us know what you think about Parent Pause. We would love to have your feedback!
I loved [having] a way to encourage the parents and have a connection with them through this resource.
Cubbies Director
I appreciate the encouragement to parents and the club-home connection with a beautiful and professional layout that I don't have time to create on my own.
Cubbies Director
NOTE: The MS Word Template will allow you to save your Club News document and return to it later. You can do this by printing the last page of the newsletter (a writeable PDF page) and then inserting it back into your printer. You can then use a word processing program to print your news onto it before photocopying. You can also use our convenient Microsoft Word template which will allow you to save your document and return to it later. Information that you enter on the PDF cannot be saved unless you are using Adobe Acrobat Pro.